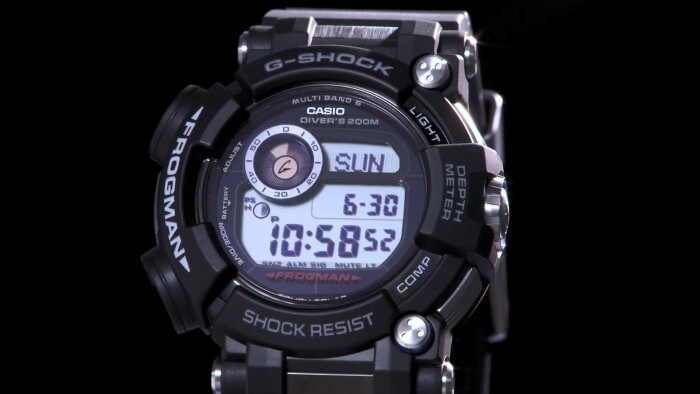 There is a new all-digital Master of G watch available and it is the top of the line all-digital G-Shock. The G-Shock Frogman GWF-D1000 is a June 2016 release.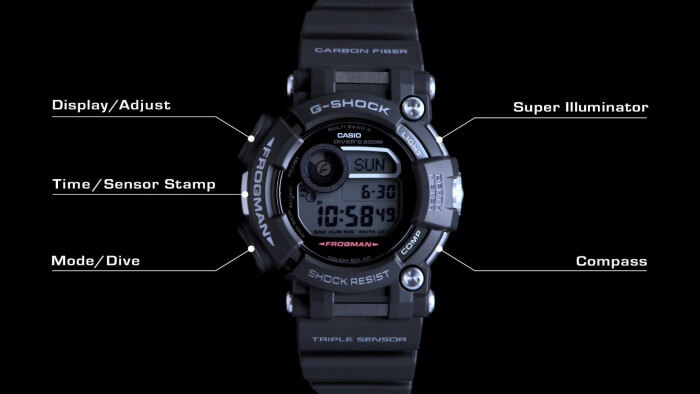 The GWF-D1000-1JF has silver accents and a red Frogman logo,
G-SHOCK FROGMAN GWF-D1000-1JF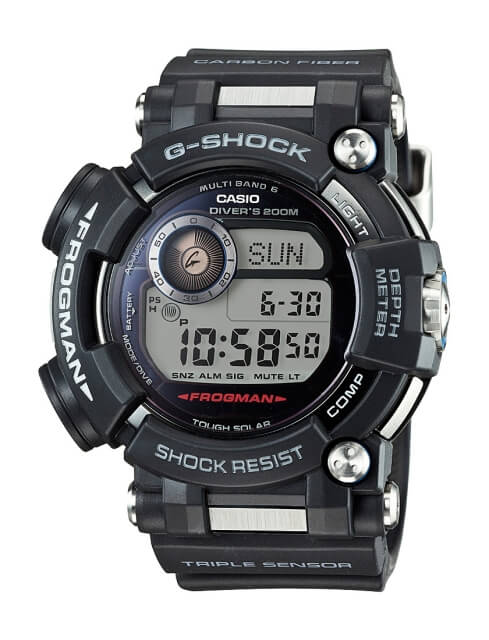 The GWF-D1000B-1 is also a U.S.A. release as the GWFD1000B-1 with a list price of $1,050 USD.
G-Shock Japan has added a new Frogman page.
Screw Lock Back Case and Stainless Steel Body: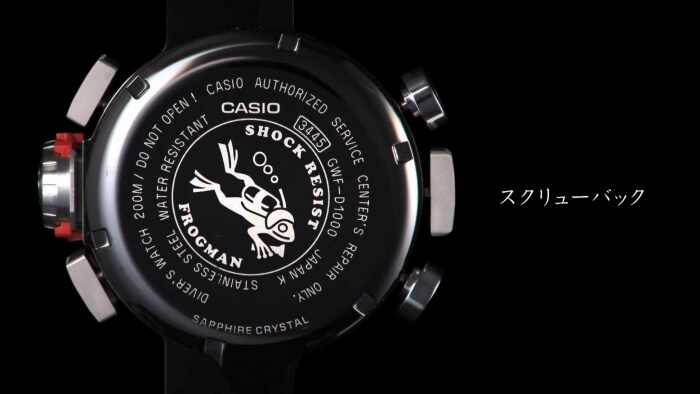 First G-Shock Frogman GWF-D1000 Promotional Video:
GWF-D1000 Specifications:
Shock Resistant
ISO 200M Water Resistance
Tough Solar charging system with rechargeable battery
Multi-Band 6 atomic timekeeping via radio wave reception (Japan x 2, USA, UK, Germany, China)
Depth Meter: Water depth measurement range: 0.0m ~ 80.0m in 0.1m units, up to 6 hours, automatically measured at a depth of 1.5m in diving mode, automatic log memory
Log Data: 20 records. Dive start date and time, dive time, maximum depth, minimum water temperature
Compass Bearing: Angle measurement of orientation (0 degrees to 359 degrees), 16 orientation (no display in dive mode), orientation continuous measurement (60 seconds, 20 seconds in diving mode), automatic horizontal correction function, orientation correction function, magnetic declination correction function
Water Temperature Measurement: Measuring range: -10.0 ℃ ~ 60.0 ℃ in units of 0.1 ℃
Time Stamp Function: 20 records. Date and time: water depth measurement, water temperature, orientation measurement, temperature measurement
Moon Age Data
Tide Graph: 6 stage display
World Time: 48 cities (31 time zones + UTC, DST setting)
Stopwatch: 1/100 second, split, up to 1,000 hours
Countdown Timer: Up to 24 hours
Alarms: 5 daily with snooze alarm
Other features: Battery indicator, full auto calendar, 12/24-hour display, button tone on/off, full auto LED backlight, Super Illuminator with afterglow (1.5 or 3 seconds)
Size: 59.2 × 53.3 × 18 mm
Weight: ~141g
---
YOU WILL GET:
*100% ORIGINAL
*1 YEAR WARRANTY FROM CASIO DISTRIBUTOR
PACKAGE INCLUDE:
*WARRANTY CARD
*CASIO ORIGINAL G-SHOCK BOX
*MANUAL BOOK GUIDE
FREE:
*NICE GIFT WRAPPING
*BUBBLE WRAPPING PROTECTION
#CASIO #CASIOORIGINAL #CASIOGSHOCK #GSHOCK #GSHOCKORIGINAL #SPORTWATCH #WATCH #JAM #DIGITALWATCH #MENWATCH #JAMLELAKI #CASIOMEN #MATTEFINISHED